PVC AUS 2024: Future Driven
on the Gold Coast, Queensland.
Dates: 4-6 June 2024.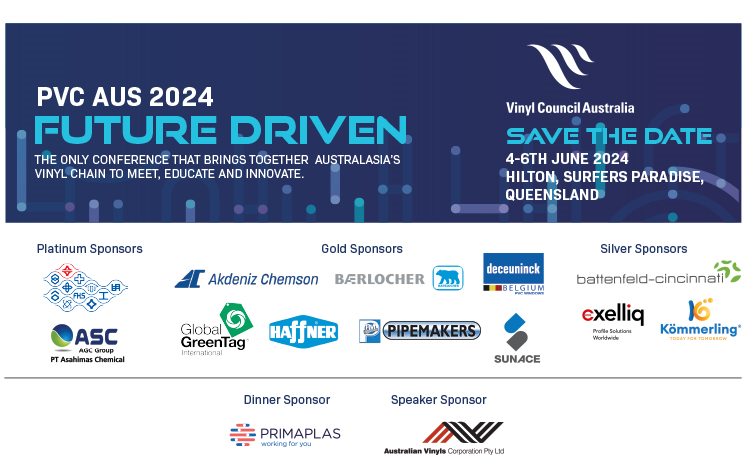 The fourth biennial PVC AUS conference will bring the Australasian PVC industry together when it takes place from 4-6 June 2024 on the sunny Gold Coast, Queensland. Following the success of the previous edition of PVC AUS in 2022, PVC AUS 2024 will once again be held at the Hilton Hotel on the Surfers Paradise and will include another jam-packed program featuring a range of expert speakers, panel discussions and social networking opportunities with leaders from across the industry.
With a focus on 'Future Driven', the carefully constructued two-day program will explore key industry opportunities, challenges and talking points for the broader PVC industry as we transition towards the second half of the decade.
REGISTER FOR PVC AUS 2024 HERE!
CLICK HERE to find out more about PVC AUS 2024 including the latest information on the program and speakers, and accommodation options!
Do you want to make sure you keep up to date with all the latest news and information on PVC AUS 2024?
This email address is being protected from spambots. You need JavaScript enabled to view it. with your details and we'll make sure you're included on all conference-related mail outs.
To enquire about PVC AUS 2024, please email This email address is being protected from spambots. You need JavaScript enabled to view it.