Epworth Richmond has been one of the most consistent high-performing hospitals over recent periods in our PVC Recycling in Hospitals (PRIH) program, with the hospital averaging 250+kg of recycled PVC per month in their collection bins through the first half of 2022. That's enough to make 2km of recycled garden hose each month! Despite major disruptions to hospital operations during the COVID-19 pandemic in 2020, Epworth recycled almost seven tonnes of PVC, equivalent to 45km of garden hose!
Having been participating in the PRIH program for many years, sustainability has remained a focus at Epworth Richmond. According to Simon Mikedis, Group Sustainability Manager at Epworth HealthCare, interest in the program to recycle used PVC medical devices initially stemmed from a couple of factors. Firstly, the hospital identified PVC was a valuable recyclable resource, however it wasn't accepted in the general commingled recycling programs due to clinical waste concerns. While PVC items make up a significant share of the hospital's waste stream, it was being sent to landfill. Secondly, the hospital wanted to address the rising cost of sending waste to landfill and stricter EPA laws around waste prevention and resource recovery, which aligned with a new strategic commitment by Epworth to improved sustainability practices and the circular use of resources.
Since joining the PRIH program, Epworth has focused on education and communication with staff to grow involvement in the program and make PVC recycling such a success. This comprised staff involvement and promotion of the program across the organisation through various sustainability committees, distribution of educational program posters and other materials and acknowledgement of ongoing recycling progress (in association with Baxter Healthcare statistics)
Simon points to the establishment of 'recycling champions' in each ward as being integral to the hospital's success in their recycling efforts. These champions were always available to educate and assist staff in determining the materials permitted in the PVC recycling bins. This level of education plays an important role in helping Epworth reduce contamination from non-PVC waste, which can be a common issue that leaves PVC waste streams unrecyclable if they are co-mingled with non-PVC items which belong in the general waste stream.
As one of the largest hospitals in Victoria, it is great to see the commitment by Epworth Richmond to sustainability and the recycling of used PVC within a circular economy. We look forward to seeing more recycling achievements from them going forward.
To find out more about the VCA's PVC Recycling in Hospitals program including how your hospital can get involved, go to: https://www.vinyl.org.au/pvc-recycling-in-hospitals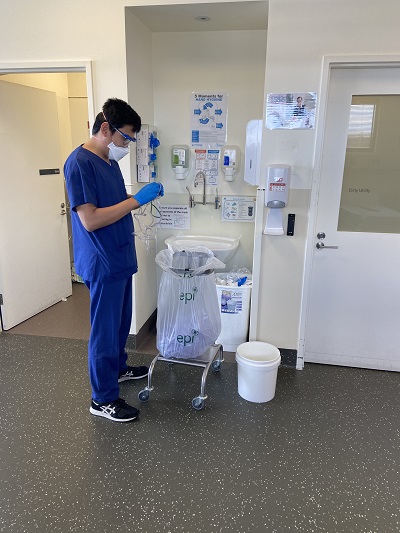 A staff member at Epworth Richmond participates in the PVC Recycling in Hospitals program.